I have a birthday coming up! It doesn't end with a zero, so it's not as hard to handle. Last year's ended with a zero, and that was an adjustment. This year, I am just thankful for another year of family and health and LIFE!
I thought I would share with you some of the items that are on my wishlist or that I currently have - not so you can buy them for me, of course, but so you have an idea of what you can get for the runner or exercise enthusiast in your life!
All of the links in this gift guide are affiliate links when possible.
Fitbit Flex
- I have mentioned this one before. This is a pedometer, but with a twist. It uploads the steps info to their website and gives you all sorts of interesting data. Besides how many steps you walked, it tells you the duration of your sleep, how many calories you have burned, and how many miles you've traveled. There is something about wearing it that motivates me to get in 10,000 steps. It doesn't happen every day, but I'm just happy for the days I get in 10,000 steps. Actually today, I'm shooting for 15,000 because I'm so close!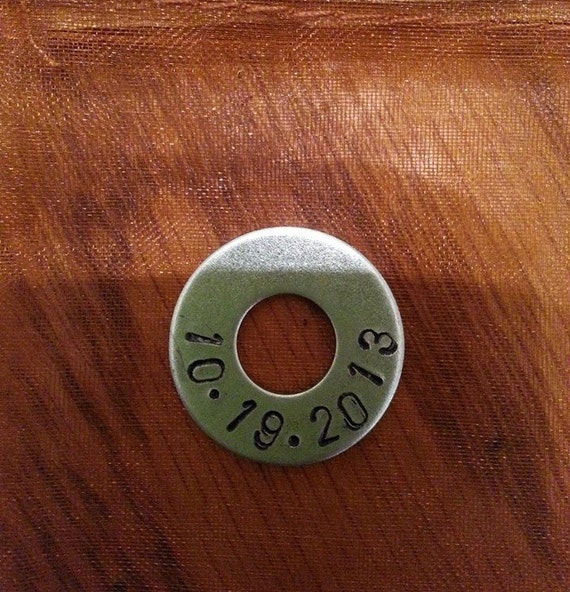 Stamped Washers
- (Photo from her listing on Etsy - I chose a different inscription.) I ordered these for my friend and I to commemorate a race which doesn't hand out medals. I simply add it to my keychain, and I have a nice little reminder every time I look at my keys.
10 Minute Solution: High Intensity Interval Training
- I did get this one for Christmas. I haven't tried it yet. I think I am a little afraid that it will be too tough! I'm sure I'll be glad I tried it.
Walking for Weight Loss, Wellness & Energy DVD by Jessica Smith
- I don't have this one, but it is on my wishlist. I really like Jessica's workouts on YouTube, so I'd love to try another one of her DVDs!
And here are a couple of non-running items that have caught my eye lately - I have these and love them!
Pandigital Photolink One-Touch PANSCN05 4-Inch x6-Inches Photo and Slide and Negative Scanner
- I got this one as an early birthday present. While it is not a super high resolution scanner, it is perfect for what it does - get your stacks of 4x6 photos scanned. It mainly does scan this size, although I have used it for some smaller photos. It is also supposed to scan slides and negatives, but I haven't used it for this. I like using it, without my computer, to scan photos while I watch TV. I take it out of the album, scan it, and put it back. It is simple, and I have a lot of fun reliving old memories. :)
365 Slow Cooker Suppers
- I have Stephanie O'Dea's previous cookbooks and love them. This one is not my favorite of the three, but I am learning to like it. This one feels a little more like they have "grown up" meals in them, and that really is OK. Being of an "advanced" age, I really should try some different recipes - even if they have coconut in them! The ham and potato bake recipe was very yummy, although I flaked on making a roux and just added more chicken broth instead.
I hope these suggestions help you out!